2,952 views
Valentine's Day? Pah – who needs it?
If you happen to be a) male, b) single and c) aware that the gushiest day of the year is looming on the horizon like a hot air balloon made entirely out of Hallmark cards, we're here to report that you don't.
Because, believe it or not, the answer to true happiness doesn't involve a romantic relationship but actually the relationship with your best mate, according to a US study by social scientists at the Universities of Winchester and Bedfordshire.
In the study, which interviewed 30 heterosexual male sports science students for the study, each of whom who had enjoyed at least one 'bromance' and one romance in the last year, researchers found that every man claimed they had a friend with whom they engaged in "no boundaries" behaviour – sharing secrets, expressing love, sleeping in the same bed as on occasions – and got more emotional satisfaction from this platonic pal than they did any romantic relationship with women.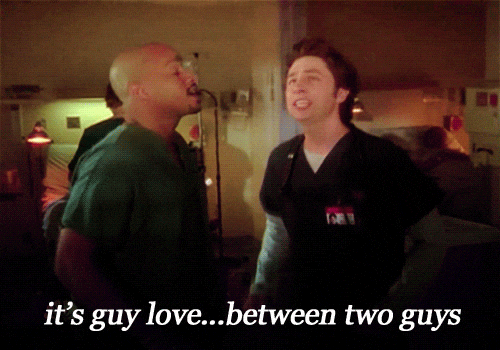 29 out of the 30 men even claimed they'd cuddled their BFF at some point, while 28 of the group admitted they would prefer to talk to them over personal matters and conflicts than they would someone they were dating. One interviewee said: "If I found a lump on my testicle, I'd talk to [the BFF] rather than my girlfriend."
So, while you may think of bromance as fun, or relate it to some on-screen japes – JD and Turk from Scrubs, for example, or Chandler and Joey from Friends (surely the ultimate purveyors of guy-time), or even non-fictional pairings, such as former US President Barack Obama and Joe Biden, who've been known to be smitten with one another for a few touching photo calls – a bromance may be one of the most important relationships you'll ever forge.
As the study itself mentions, the concept of male companionship is nothing new – not least in US political circles – with George Washington known to write endearing letters to other men, and Abraham Lincoln once sharing a bed with a male friend for several years. Pillow talk or not, mind, a close-knit friendship with a best pal will be there with you right to the end. As one participant put it during his interview for the study. "A bromance can last a lifetime."
Best of all, you also don't have to buy them a card and flowers because some card marketing exec tells you to. Win-win.
Now if you really want to put your singledom to good use, book one of these adventure trips for 2018.
Cycle through the ancient ruins of Polonnaruwa in Sri Lanka
Paddle in kayaks through one of the happiest and most beautiful countries on earth
Ride across a glacier on snowmobile in Iceland
Hike through rainforest and lava formations in Costa Rica
Go island hopping in brilliant Brazil on a private boat
---
Comments
<